Our motivation
Why we are building a startup landscape
Start-ups are the engine of innovation. They reflect the innovative power of a country and will eventually become the next generation of market leaders. While the US, China, Israel, and other countries actively promote and boost their ecosystem in artificial intelligence (AI), German start-ups focussing on AI are hardly known.
This lack of recognicion not only prevents the creation of internationally operating companies in this field providing the workplaces of the future, but it also harms the innovative power of established companies. Due to our mission to lift Germany to the age of AI, it is one of our tasks to give companies guidance and promising start-ups a visible platform. This benefits both parties.
In the AI domain, a multitude of use cases requires partnering between young, innovative and established companies. There are several reasons why collaboration between start-ups and fully developed companies is the best option, not only for both parties – but for the economy as a whole. Firstly, technology develops amazingly fast. As a consequence, there is a need to be dedicated to one specific technology to stay state-of-the-art. While almost all companies require a broad selection of AI solutions, start-ups focus on one specific niche. They provide the necessary solutions with the latest technology. Secondly, AI systems increase in performance with more data and applications.
Therefore, in non-competitive use cases, a technology from start-ups that supply many companies tend to perform better than a stand-alone solution for one specific application in one company. Thirdly, AI is a fundamentally challenging task to implement in the eye of a rapidly increasing need to develop new roles, adapt processes, collect data, hire new skills, or work in agile settings. Partnering with start-ups helps companies to get rid of some of these challenges and helps them to focus on value creation.
We will subsequently publish new insights into the German AI start-up landscape to help you get started with this technology and at the same time support our start-ups to get traction.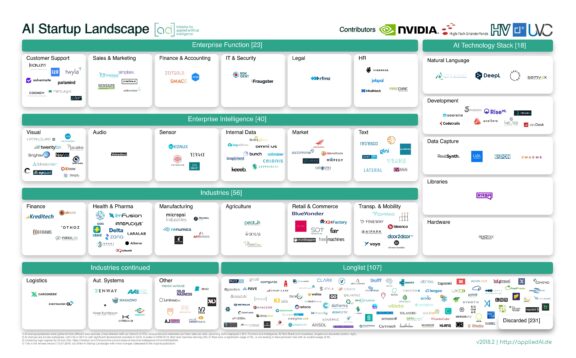 Methodology
How we built it
The AI startups included in the landscape are private companies founded after 2009, with headquarters or significant development activity in Germany. They have machine learning (ML) at their core or exhibit a significant usage of ML. The selection process can be summarized as follows:

The startups are gathered from different public (e.g. Crunchbase, LinkedIn) and private (VC network) sources to create an extensive longlist.
The startups are evaluated based on: data, talent, AI methods, scalability, overall quality and subsequently clustered (see clustering logic).
The startups are initially rated ('valid', 'upcoming', 'longlist', and 'discarded') by our AI Engineers and Strategists to create a shortlist.
The shortlist is independently evaluated and rated by our contributors (jury) (Digital+ Partners, Earlybird Capital, eCAPITAL, Google, High-Tech Gründerfonds, HV Holtzbrinck Ventures, Lakestar, NVIDIA, Speedinvest, and Unternehmertum Venture Capital Partners). The feedback is synthesized and the final result is visualized.
CLUSTERING LOGIC
The clustering logic is based on Shivon Zilis' landscape of machine intelligence. It is developed from the point-of-view of companies that want to use AI in their businesses:
Enterprise Functions: Increasing productivity of existing tasks – Support your employees with ready-to-use, AI-enabled tools supporting their day-to-day work to increase productivity.
Enterprise Intelligence: Exploiting new data sources – Tap into new insights that were previously too difficult or expensive to be gained through conventional methods.
AI Technology Stack: Building products with ML: Give developers the tools that they need to build and leverage machine learning software to gain a competitive advantage.
Industries: Leveraging AI-first products: Use and cooperate with startups using machine learning to offer industry-related products and services.
Metadata
About the startups
Location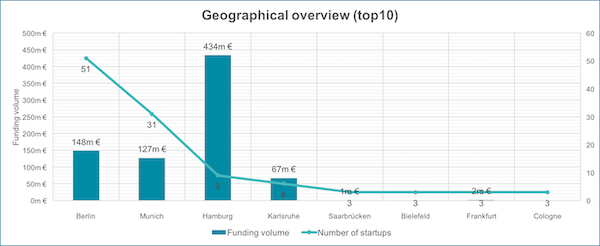 Few geographical hubs dominate the scene with Berlin 51 (38,6%), Munich 31 (23.5%) and Hamburg 9 (6.8%) housing 68,1% of all German AI startups and controlling 88% of the total funding volume in Germany.
Funding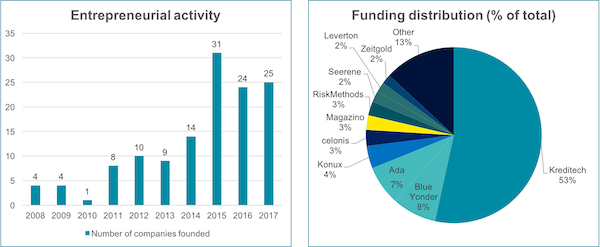 The top10 German AI startups funding-wise control 698.4m € (86.9%) of the total funding volume with Kreditech alone accounting for 429.6m € (53%) and only 51 (38.6%) got funding in general. The number of founded start-ups per year has increased significantly, especially in the last three years (2015-2017).
Sector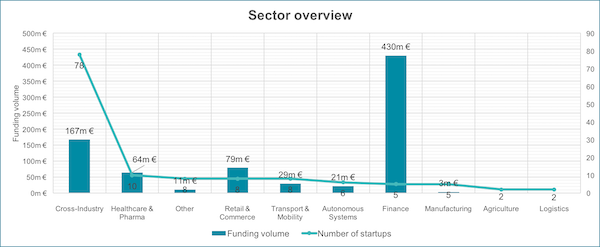 The majority of startups (59.1%) operates cross-industry wide (clusters 'Enterprise Function', 'Enterprise Intelligence', und 'AI Technology Stack') while healthcare & pharma (7.6%), transport & mobility (6.1%) and retail & commerce (6.1%) dominate the industry-specific landscape in terms of number of startups.
We believe that sharing this information is our obligation. Using this landscape as part of a presentation, talk, or project is allowed and encouraged as long as you always use the visual representation and reference us appropriately. Changes to our landscape have to be marked as your own changes. The content of this insight is published under CC-BY 4.0.